Home ... Issue 1 | 2 | 3 | 4 | 5 | 6 | 7 | 8 | 9 | 10 | 11 | 12 | 13 | 14 | 15 | 16 | 17 | 18 | 19

The Biggest Library Yet 8


Mr Songwriter - Explanations of songs
Fall S*ng Title St*ory
The Cult of the Cut-out Craig
An angry letter
Mark Radcliffe interview
John the Postman
Live reviews - Aylesbury, South Shields, Worthing
Left-handed pull-out supplement section
Back cover quotes


Published: February 1997 SOLD OUT
---

Mr Songwriter (excerpts)
What Mark E. Smith (and some others) have had to say in explanation, explication or examination of assorted Fall songs over the years. Sometimes illuminating, sometimes mystifying - culled from articles and interviews too numerous to remember.
Repetition
You get kids asking for Repetition and I say: Do you go to the same school as you did two years ago? Do you go to the same pub as you did two years ago? I know I don't...
Fiery Jack
He's someone I know. That song's an attempt to get back at the ageism thing, where people are supposed to be screwed after they're 29. I mean, the people in the pubs where I go are 48 or 50, but they've more guts than all these other preeners. In every generation, you get this core of spirit, and they never lose it.
The N.W.R.A.
A long tale, supposedly objective. In which J. Totale describes the death of his father - a very personal thing - but necessary and to the good. R.T. XVII has a heart attack on the last note.
Fantastic Life
Like 'The Third Man' after a shot an cover; having a barney, rasputin, dustbinmen, jerusalem, and is conceptually re-speaking old chap dear friends, to Lie Dream i.e. 'I just thought I'd tell you... '
Joker Hysterical Face
It's about a couple who live sort of downstairs from us, where we were living, and they used to play Abba and that stuff, they always used to have it on full blast. She was a divorcee, I used to know women like her, and it's not very far from the feminist movement. Like the man is the main thing to blame.
C.R.E.E.P.
I'm so proud of that song. I didn't see it as pure pop because it hasn't been accepted like that. It's got good words in it and that throws people off - their brains are so degenerate now, that if they hear something they don't understand they just drop it. I always thought it would appeal to children and it does. A lot of very young kids - seven or eight - seem to like it.
I never thought, though, that the creep was the guy who smelt bad at school; it was always the most popular guy in the class, cause you knew damn well he wouldn't do well in life, the sort who'd cry when the exam results came out.
Brix: Everyone thinks that Fall songs are about themselves and that was especially so with C.R.E.E.P. Some people thought it was about Morrissey which it wasn't. Marc Riley, our old guitarist, thought it was about him, which it wasn't. It's about every creep in the world.
Disney's Dream Debased
Brix, 1984: Mark got off this ride with tears in his eyes he was so frightened. This ride is a mountain, 100ft in the air, an exact replica of the Matterhorn; you ride at sixty miles an hour. Ten minutes after we get off, a woman falls out of her sleigh, gets trapped and decapitated by the oncoming one, They couldn't get her out. There was fire engines everywhere coming out of the bushes, and all these Mickey Mouse characters rushing out to distract people. It took them seven hours to get the body off. Everyone was pretending nothing had happened, they were all going : 'Disneyland is wonderful land.' Mark was saying: 'Whaaat? There's a woman up there with no head on!' but Mickey Mouse was just laughing away. Mark thought it was like a bad trip.


---

in: PoW Centre - Cannock 1996

We didn't really know what to expect when we arrived at Cannock's Prince of Wales Centre. Accompanying our tickets was a variety of info about the venue including a seating plan and details of how drinks (plus ice cream, coffee and confectionery) could be pre-ordered for the interval from the foyer, plus a programme including details of other forthcoming events. Such delights as the Pirates of Penzance, Budgie the Helicopter and Junior Startime (Cannock Final) would soon be gracing the same stage as the mighty Fall. There was even a double page spread to colour in and draw a picture of a genie to win a pair of tickets to see Aladdin.
Thankfully the venue wasn't all seats. There was a classic 1950s style cinema seating arrangement but also a dancefloor between the red leatherette seats and the stage. The PoW staff were very friendly and the woman on the door promised to reserve me one of the advertising posters for after the gig. One of the bouncers told me that he'd heard the singer needed to get 'absolutely bladdered' before he'd even consider going up on stage because his nerves are 'completely fucked'.
Before the gig we were talking to producer and occasional vocalist with the band Mike Bennett, despite being obviously the worse for having a few beers he was a most polite and informative chap. Pretty soon he was joined by Steve Hanley who made time to talk about the band and reminisce about some early Fall gigs in my home town of Retford at a venue called the Porterhouse. My wife and I were very pleased at having spoken to two of the band and managing to scrounge one of only two posters in the whole of Cannock advertising the show.
We talked to some fans from Stafford and were laughing about the colouring competition in the programme saying wouldn't it be the ultimate to get Mark E. Smith to fill the picture in - the programme had referred to him as 'The Godfather of Scowl'. A few minutes later Mike Bennett tapped me on the shoulder and drew my attention to the fact that the great man was standing just a short distance from us. 'Go on then, ask him' I dared my wife. Not only was he happy to sign the picture for us but apologised for not bringing his crayons to colour it in. Apparently, he'd just been singing with Fall fans in the pub down the road. So much for the Godfather of Scowl who gets drunk because of nerves theory.
I was sad to see Craig Scanlon leave the band but it has to be said that the current line-up can most certainly deliver the goods. Hanley and Wolstencroft's relentless pounding of bass and drums provides the foundation for the unique Brix guitar rhythms and the talented Julia Nagle's keyboards, all forming the perfect backdrop for the vocals/ comedy/ showmanship of Mark E. Smith (and his occasional sidekick Bennett).
Now, owing to a copious amount of alcohol having been taken on board throughout the evening I was relieving myself when the Chiselers struck up and afterwards returned to my position at the front of the stage. Then I saw Mark E. heading my way with a manic and mischievous grin etched all over his rugged facial features.
Aaarggh, what does he want! he knelt down on one knee, took hold of my shoulder, thrust the microphone into my face and said 'Go on mate you have a go!' Talk about being put on the spot, this was the last thing I'd ever expected. Suddenly, my throat felt constricted, my tongue felt four times too big for my mouth and my memory looked like deserting me. Somehow, right on cue my voice disengaged from my brain and I actually sang the lines. Mark then retreated further back on stage and much to my relief I received some applause for my efforts.
It's just as well that there wasn't a queue in the gents or I would never have had the chance to sing with the greatest band in the world by invitation of the genius which is Mark E. Smith. Believe me, by the time I'm through relating 'the legend of how I became a Fall singer' to one and all my wife is going to wish I'd got locked in there.
Rob Waite


---

Odran Smith interviews John Peel

'Pop treats a-plenty on the extended John Peel programme this Saturday and every Saturday from four till six. Unbridled hardsteppers, raging Japanese noiselords, post Britpop teensquirts, Zairean guitar beasts, timid West Country tunesmiths, dub-thugs from the suburbs, hard-faced technospooks from the greater Europe. All the fun of the fair.'

In December, Odran spoke to John Peel on the phone - before the departure of Chris Evans and the rescheduling of Peel's Radio One shows.

OS: I saw you DJ in the Rock + Roll Bar, Manchester a few weeks ago. I thought after Germany and the Hacienda (when the crowds were meagre) it was the end of you DJ-ing in venues.

JP: Well I did the Hacienda mostly because I wanted to tell my grandchildren that I'd played there. I mean, I've played at Wembley stadium twice, for charity matches. There were big crowds there for youth international matches. I used to play the Public Baths in Scunthorpe every year. Mostly because when people asked me whether I was still DJ-ing live I could say yes. But as you get older you only do the things you want to do. I must say I was really dreading it because you don't know if somebody's going to come up to you and say: Stop playing all that shit (puts on cockney accent) I mean, it wasn't big money. But it was a great night, reinforced my belief in humanity. I phoned Sheila as soon as I got out.

OS: Totally coincidentally, loads of people from my home town in Northern Ireland went to the night, you're really well respected there.

JP: Well you know during the height of the troubles, which coincided with punk, a third of the people who wrote to me were from Northern Ireland.

OS: If you ever get the offer to DJ in Belfast you should take it.

JP: I would do it but I'm too scared. Not of Belfast I hasten to add but of flying. I'm terrified of flying.

OS: What did you say at the Rock + Roll Bar that night about football?

JP: Probably something like 'You don't know much about football here in Manchester.' I've said it in Glasgow too. I was doing a gig in Middlesbrough a few years ago and I was slagging Arsenal. Because I fucking hate Arsenal. Anyway I thought I'd be all right in Middlesbrough even though it was on this street with all the houses bricked up and the venue was full of skinheads. But this really frightening bloke plonked down his hand and there was a big Arsenal tattoo on it. So I thought I'm fucking dead. But he turned out to be a thoroughly nice bloke and protected me and the equipment for the rest of the night.

OS: What do you think of the current situation with Manchester City? It's like Ian Broudie said in the NME: "One of the best football songs ever for me is Kicker Conspiracy by The Fall, which came a long time before the current crop of footy stuff. What that semed to say was that it's sometimes it's hard to support your team when you feel disgusted with the people in charge."

JP: I was sorry to see them go down 'cos I have a lot of friends that support them. I've met Phil Neal [Man City manager at time of interview] he's a really nice bloke.

OS: Well you would say that.

JP: He is - isn't he Sheila. (speaks to his wife in the background.)

OS: So, when was the last time you saw The Fall and how many times have you seen them?

JP: I can't remember. Did they play any festivals this year? I suppose I've seen them about 25 times - not as many as some.

OS: There's this fat guy - who was mentioned in the NME album review - who's seen them hundreds of times.

JP: He's the guy with the balloons. There's also this lawyer in Hamburg who sends me all the stuff off the internet. I didn't know he sang on an Adult Net song or banged a tambourine or whatever.

OS: What have you thought of recent Fall gigs?

JP: I remember seeing them in Cambridge and he was off his head on whatever. There was such an air of malevolence about the performance and the state Mark was in that it was exciting. But I mean it's okay to fall over if you're James Brown but not if you're Mark Smith. The things that make it a bad gig can also be the things which make it a good one, if you see what I mean. I've seen The Fall over the years and I've seen the numbers are falling and the crowd are mostly blokes in their late 20s, early 30s. They should be trying to appeal to a younger audience. Not Boyzone, but you know...

OS: Mark always claims to journalists that Fall fans are teenagers but it's not really the case (although I'm only 21). And you don't want to be preaching to the converted.
You said in Jockey Slut: 'I've met Mark E. Smith a couple of times and he seemed all right though I'm sure he's a bugger to work for, but there's nothing that says to do good work you've got to be nice.'

JP: Yeah, you get roadies and crew saying he's terrible but I'm sure Picasso was a dick. I just hope he can sort himself out.

OS: Yeah, well most boozers I know are indestructible.

JP: Both my parents were alcoholics. Especially my mother in her later years. But we were middle class so you didn't call it that. I really hope Mark can get his act together. I mean they have been one of the most important things in my life over the last 20 years.

OS: (I'm reminded of what Peel said after the death of Kurt Cobain: 'I felt guilty 'cos he could have come and stayed with us.') Were you surprised Jockey Slut wanted to interview you?

JP: No, not really. But it's nice to hear people like what you're doing. It's a good magazine.

OS: Those guys are really lost in music: they work in a record shop all day, DJ at night and find time to write articles.

JP: There's a thin line between being hip and being mad for it.

OS: I think Radio One is missing a proper dance music show because Pete Tong and Danny Rampling aren't providing the whole spectrum.

JP: Yeah you're right. It was like at Tribal Gathering and I was handing over to Rampling and he'd memorised this whole statement that I'd said about him. And he says 'I hope you can stand to be in the same room as the man who...' It was a nightmare because I hate arguments. But I love dance music. I listened to a fantastic record this morning, and I played this song called Fireworks all the time earlier this year, it was really extreme and silly.

OS: What about Craig Scanlon's departure. Do you know anything about it?

JP: Somebody said the first he (Craig) knew about it was when he was watching TV and he thought - I'm in that band aren't I?

OS: There was talk that he was joining Elastica with Dave Bush. I hope he sorts something out. Marc Riley doesn't seem to have done too bad since The Fall. He was doing the Breakfast Show again this morning.

JP: Yeah that's great. I didn't know they'd be on and it was a pleasant surprise.

OS: A welcome change to Chris Evans. He must wield a lot of power.

JP: Yeah it's terrifying.

OS: So there's no chance of seeing you on TFI Friday and him calling you the guv'nor before chatting about money like he always does.

JP: Not if I can help it. I'm sitting here with a mountain of work while Evans has this massive organisation. When somebody rings here asking to speak to John Peel's secretary the kids give the phone to my wife Sheila. Ouch, I must get up, I've just been sitting on a stone step.

OS: What about the time you and David Edwards of Datblygu got kicked out of a pub?

JP: I don't remember that. I think I'd remember being kicked out of a pub but I am losing braincells rapidly.

OS: What did you think of the covers Sonic Youth did of The Fall?

JP: I thought they could have got Thurston Moore or Kim Gordon to sing them. Instead they got Epic Soundtracks. Fall fans will be interested to know that the next time they're in will contain their 100th session track.

OS: You say you've only met MES a couple of times. Do you agree with that old adage, you shouldn't meet your idols.

JP: To an extent. You've got to remember that I'm a 57 year-old man from a small village outside Ipswich. I've never been the type of person who goes backstage at gigs. It's like, would you go to a team's dressing room after a match with the manager mouthing off.
I do get an odd letter from Mark. It's mostly indecipherable but it's still much appreciated. When we meet it's just a manly punch on the arm and that's it.

OS: Interviews with him and few and far between these days. But he does do a great interview.

JP: The best one was in Making Music or some muso magazine like that. Every second word he said was 'fuck'. To me that is what Mark is like. Not some journalist putting his own slant on it and trying to sound clever.

OS: You were saying you've just been to Hull.

JP: Yes, this student wrote to me to see if I'd go to his mother's 50th birthday party. She reads me in the Radio Times and is a big fan. I was guest of honour! It was a bit embarrassing but all right.

OS: I thanked John for taking the time to do the interview and he promised to buy me a pint the next time he was in Manchester - 'but I always say that.'



---
Fall down - Worthing 1996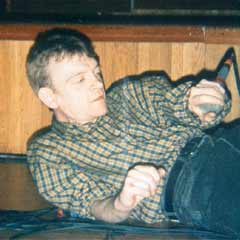 All Fall gigs are strange. But their October 96 show at Worthing's expansive, palatial Assembly Hall I was easily the strangest I've ever experienced. My first taste of The Fall's unpredictable live show was back in 1990. This meant that I had always missed seeing Brix Smith. With the woman who is surely the definitive Fall guitarist back in the gang this seemed like my chance to fulfil a long time ambition to see her in action.
Yet, as the band took to the strangely empty stage, I realised with disappointment that there was an ominous lack of amplifiers around. Sans Brix, the show began with both Mark E. Smith and keyboard player Julia Nagle strapping on guitars. For a few minutes Mark strummed away before violently slinging his guitar to the ground. This was the first unsubtle hint that something was amiss. As the band launched into a mostly instrumental version of M5 it became clear that Mark was either pissed off or just pissed. In fact it was a combination of both.
After a couple of songs Mark swayed and staggered to the front of the stage. There was no barrier and the crowd were able to shake his hand in turn. Curiously Mark allowed this. Curiouser still he gave them the microphone. This was passed from one member of the audience to another until finally someone had the nous to do something other than bellow. As whoever he was began an endless eulogy to The Fall, the band played on. And Mark, now cheesed off, strolled off. There then followed some instrumental versions of Fall tunes.
When Mark finally returned Simon suggested the last resort: Mr Pharmacist, the perennial crowd pleaser. Worthing's a weird place and the fun-starved fans went crazy. The stage was invaded countless times. It was odds on as to who would rip the leads and knock over the stands first, Mark or the mob. When some of the latter took to cavorting saucily on the boards Mark drunkenly slung his arm around Steve Hanley's shoulders and (against Hanley's will) they exited stage right.
Steve returned for another instrumental break. It was actually quite good to hear a stripped down Fall improvise with their tunes. But it was Mark who was stripped down when he came back on stage, barechested beneath his jacket. Having tinkered lazily with the keyboards Mark gradually unbuttoned his coat. The world's least likely exotic dancer. The words of The Mixer became an anti-Worthing rant: 'You are provincial, you are provincial scum.' Despite the insults, or maybe because they fulfilled the crowds expectations of a cartoonish, raving Mark E. Smith, the song got a cracking reception.
At last it seemed it was all well when, foolishly perhaps, Mark braved the front of the stage. Legend has it that, at this point, someone tied his shoelaces together. Whatever the cause, Mark took his band's name to heart. And fell. Flat on his back. This was the final straw for Steve Hanley, who threw up his hands in surrender. Mark was probably just throwing up. The last sightings of the man himself was of him being carried out through the nearest exit.
And that was it. The abrupt, premature finale of a Fall gig that was fragmented, frustrating, fascinating and bizarrely highly entertaining. Mind you, at £8.50 a throw, I still got a refund...
Stephen Bull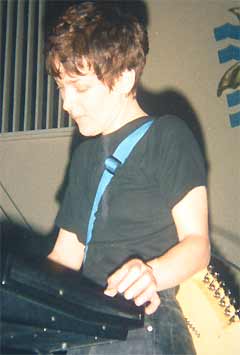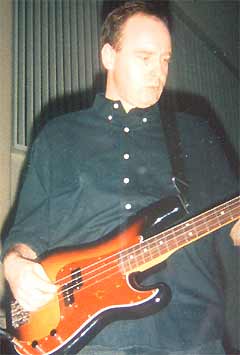 ---

Back cover quotes

Mark E. Smith, who has a Prince Valiant haircut, a maroon shirt that keeps coming out at the back, an indomitably accusing voice and more personal courage than anybody else in the hall that night, kept on 'singing' after a lesser human would've split the stage in either a flood of tears or a fit of pique.
Charles Shaar Murray, 1979
The Fall is niet geinteresseerd in de mythen van 'rock' of 'pop'.
Anton Corbijn, 1983
The Fall are a mass-minded sycophant's happy notion of his individual iconoclasm... Jeremy Lewis, 1984
The Fall are the perfect start-of-term tradition, a slithering, scoring concoction of dated garbage for pseudo-intellectual school leavers, ageing would-be hipsters and first year philosophy students. By the second year, anyone with half a brain has realised that The Fall should be despatched down La Chute as quickly as possible.
Tom Morton, 1985
My enduring admiration for their unwholesome racket is not something that can sensibly be analysed.
John Peel, 1986
Eyes extending invisible tendrils of contempt, the bastard offspring of Natassia Kinski and an irate squid.
Stephen Dalton, 1991
For all his celebrated bluntness, Smith is strikingly courteous and affable in person. When he raises a pint glass to his lips, which is something he does a fair amount, he cocks his little finger like a matron of the Raj.
Ben Thompson, 1992
Tone-deaf, harshly Mancunian, occasionally employing a loudhailer, he barks and slurs his mysterious phrases and stanzas in unique, unforgettable style.
David Cavanagh, 1994

... poet, punk, pub philosopher, national institution, vilifying visionary, sacker of thousands, beloved of millions, relentlessly prolific artistic auteur, spectacularly unrepentant grumpiest man in pop...
Sylvia Patterson, 1996
Treating Smith as sane necessitates viewing most modern British rock with the contempt it deserves.
Stewart Lee, 1996